The map of Hans Konrad Gyger was established more or less at the time when the monastery of Tänikon started to keep track about the births of the population around Tänikon.
The map is oriented to the east and not to the north as it is usual for today's maps.
Clearly recognisable is the monastery of Tänikon (Denicken), Ettenhausen (Ettenhusen), Iltishausen (Iltishusen) und Aadorf (Aadorff). It is also interesting to notice that in those times Ettenhausen and Iltishausen were of about the same size.
The attentive observer will notice that on the westside of Tänikon two separte boarderlines were drawn in the map around Tänikon and Ettenhausen. Depending on the border, the west part of Ettenhausen and the hamlet of Iltishausen are in the canton of Thurgau or in the canton of Zurich. Gyger did not miss to indicate the boarder as it was agreed in the contract of 1427 between the city of Konstanz and the county of Kyburg. However, for practical reasons, Kyburg did never claim the triangle between Haggenberg, Iltishausen and Bichelsee.
From a legal perspective, the former citicens of Ettenhausen and Iltishausen were belonging to the Canton of Zurich.
1. Extract of the Gyger map of 1667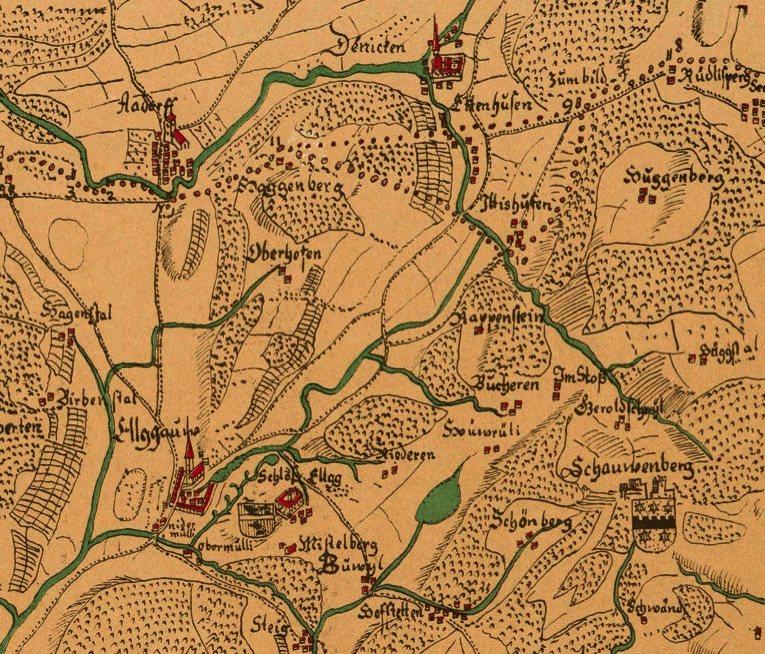 2. Extract of the Wild map of 1850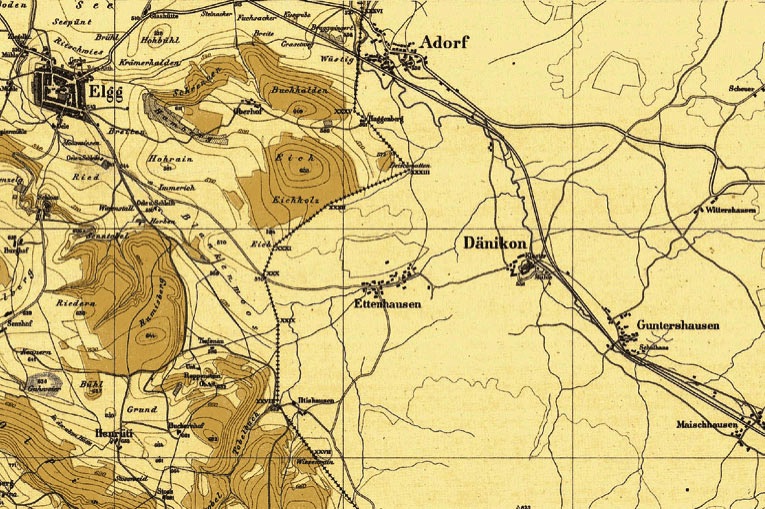 The above pictured map of Johannes Wild was made between 1843 and 1851 and reflects the entire region of the Canton of Zurich on a scale of 1:25.000. Wild only coloured the forests within the Canton of Zurich and left the surrounding areas in a draft.
Well visible on the map is the railway line of the St. Gallen - Appenzell Railway Company. The line went live on 14 October, 1855 and was originally planed to pass through Ettenhausen over the Blankenmoos to Elgg.
At the time Ettenhausen was reduced to the Oberdorf. The Unterdorf was added later during the second half of the 19th century.
More or less at the same time in 1848, the former monastery of Tänikon was confiscated by the Canton of Thurgau and later sold to a well known family called von Planta.
View on today's Iltishausen. With the exception of Amrein's farm, built in 1865, Iltishausen did practically not change since the Middle Age. Easy to identify is the Oberhof and Unterhof of Iltishausen established in 1459 and 1578 respectively.
The family history of the Aadorfer Zehnder is trackable back to the year of 1459 and back to this unchanged place in the hinterland of the Canton of Thurgau.
Every thing which was before those times, still remains in secrets.
3. Aerial photo of the area of Iltishausen, Ettenhausen and Tänikon
The airplane view shows how Ettenhausen developed over the last 160 years. Today, Ettenhausen and Aadorf are not only merged politically but also geographically. Tänikon has grown as well, but is still surrounded by green areas and clearly separated from Ettenhausen and Guntershausen.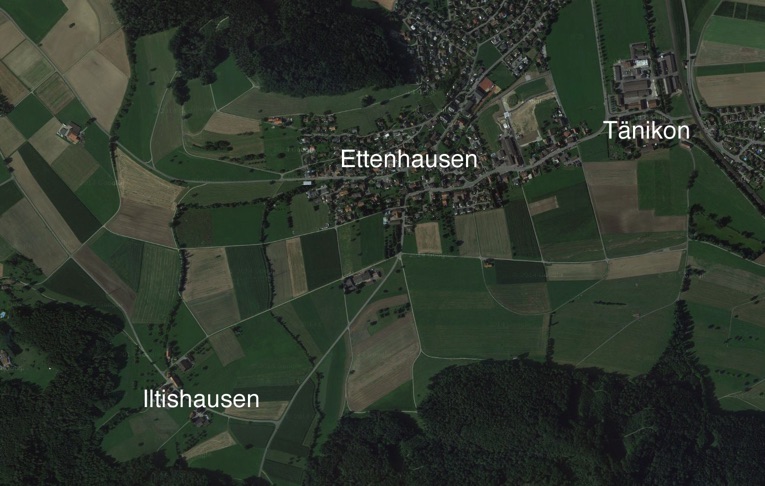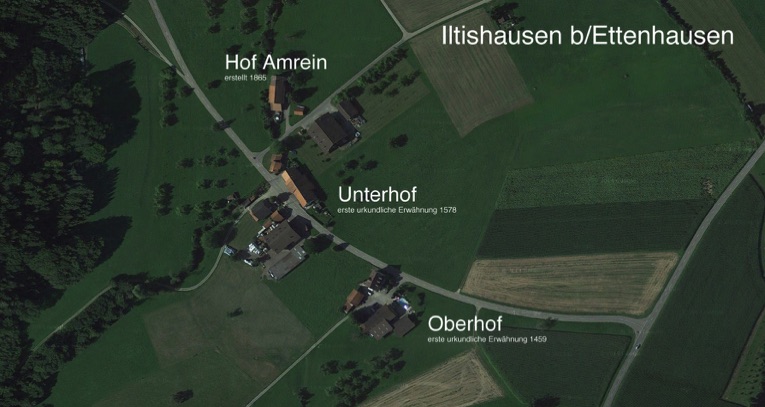 3. Focused aerial view of today's Iltishausen